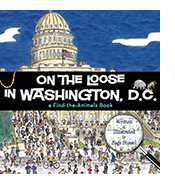 ALSO AVAILABLE: On the Loose Philadelphia
Order from Amazon. Visit the companion web site.

On the Loose in Washington, D.C.
Order from Amazon. Visit the companion web site.
About On the Loose in Boston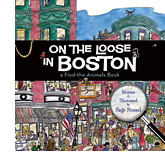 With simple rhymes and colorful, highly detailed images, cartoonist Sage Stossel creates a "Where's Waldo?"-style hit, setting animals free from Franklin Park Zoo and challenging children to find them in settings from Faneuil Hall, to the Esplanade, to Fenway Park. Children will have a ball helping the keeper find a rhinoceros in the North End, a koala bear in Chinatown, and a penguin on Boston Common. Over 100 animals are hiding cleverly in beloved Beantown settings.

Review at Boston Mamas.com:
Not only are the illustrations awesome, Stossel engages the reader with challenging searches for the Franklin Park Zoo animals artistically hidden among her drawings, and she entertains us with a rhyming plot that tickles the tongue with wonderful vocabulary. Read more...